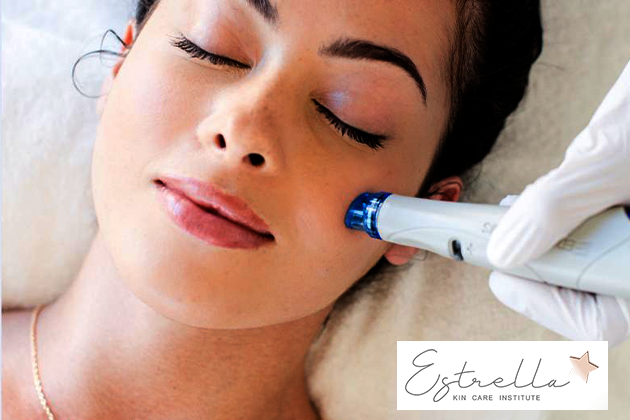 HydraFacial is a hydra dermabrasion treatment combining cleansing, exfoliation, extraction, hydration, and antioxidant protection, resulting in clearer, more beautiful skin with no discomfort or downtime.
The treatment is soothing, moisturizing, non-invasive, and non-irritating. It is designed to improve the appearance of fine lines, wrinkles, congested and enlarged pores, and balance oily or acne-prone skin, as well as dry or dehydrated skin.
This unique back treatment incorporates all the skin refreshing benefits of the Hydra-Facial MD to give you glowing skin all around.
The special HydraFacial tip loosens and removes impurities that can be trapped in the pores while Vortex-Fusion technology enhances the penetration of the last serum including antioxidants, peptides, and hyaluronic acid.
Finally, a relaxing, moisturizing massage will help to lock in the hydrating ingredients and leave you feeling rejuvenated.
Facials have long been a popular choice of patients who are hoping to turn back the effects of the natural aging process and enjoy skin that is smoother, tighter, more radiant, and more youthful than before. In fact, a facial is the second most popular spa treatment after receiving a massage.
The basic facial process involves a thorough cleanse and exfoliation of the skin, followed by the application of products that are designed to target any problems that you might have with your skin, as well as rejuvenate it. However, the techniques involved in a conventional facial have continued to evolve and improve and now there are multiple types of facials to choose from. We are delighted to offer patients one of the newest and most innovative treatments around- the HydraFacial.
HydraFacial takes the conventional concept of a facial but utilizes patented vortex technology to cleanse and hydrate the skin through exfoliation. Unlike regular exfoliation and microdermabrasion devices and products, which are harsh and can irritate sensitive and acne-prone skin and make it sore and blemished, HydraFacial works just as effectively but more delicately. Not only will it provide a premium-glade cleanse of your skin, but also it will deliver botanical ingredients that contain important nutrients for nourishing your skin and keeping it healthy. These include hyaluronic acid, horse chestnut seed extract, red algae extract, zinc, copper, and magnesium peptides.
In addition to providing important nutrients, HydraFacial also delivers powerful antioxidants directly to the skin. These counteract the damage caused by free radicals-by-products of sun, stress, and pollution, which are well known for their acceleration of the aging process and causing dryness, fine lines, and wrinkles.
AM I A GOOD CANDIDATE FOR HYDRAFACIAL?
One of the great things about a HydraFacial is that it is suitable for a huge range of different patients of all ages and skin types. Not only will it produce immediate, visible results but it will leave your skin feeling and actually being healthier than before. If you would like to know if you are a good candidate for a HydraFacial, our experienced team would be happy to advise you.
TYPES OF HYDRAFACIALS
SIGNATURE
The Signature HydraFacial deeply cleanses, extracts, and hydrates the skin through super serums filled with antioxidants, peptides, and hyaluronic acid. Treatment will include t-zone extractions and Red or Blue LED Light Therapy
DELUXE
This invigorating treatment includes all of the essentials of the Signature HydraFacial while addressing specific skin concerns through HydraFacial's boosters (Dermabuilder Boost/Growth Factor Boost/Britenol Boost) and protocols.
PLATINUM
The HydraFacial Platinum is designed to maximize the entire HydraFacial experience by including pre and post-facial enhancements. Includes the traditional cleaning process, extractions and hydration, the booster of your choice (Dermabuilder Boost/Growth Factor Boost/Britenol Boost), LED light therapy, and lymphatic drainage.